Tear Trough Injectable Hyaluronic Acid Korea Dermal Filler
Wtrysk kwasu hialuronowego

Za pomocą strzykawki wypełniacz twarzy HA w środku do głębokiej części skóry właściwej pacjenta. Ta warstwa skóry tuż pod powierzchnią zawiera naczynia krwionośne, tkanki łączne, pot i gruczoły tłuszczowe oraz zakończenia nerwowe. Podnoszenie i wygładzanie hialuronianu sodu jest widoczne około tydzień później. Injectable Hyaluronic Acid oferuje długotrwałe rezultaty, a większość osób zgłasza, że ​​potrzebuje powtórzyć leczenie przez sześć do dziewięciu miesięcy. W tym momencie organizm naturalnie wchłania biokompatybilny związek i efekt leczenia zanika. Oryginalny wpływ może trwać jeszcze dłużej dla pacjentów.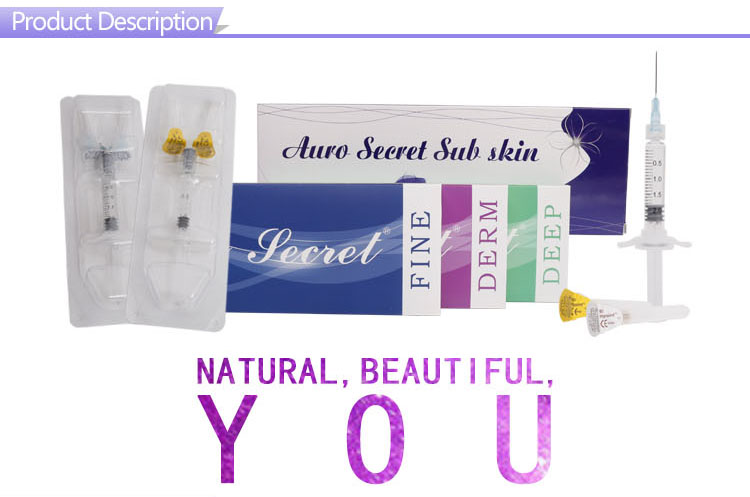 Wstrzykiwanie ampułki jest substancją naturalnie występującą w ludzkim ciele. Występuje w najwyższych stężeniach w płynach w oczach i stawach. Kwas hialuronowy, który jest stosowany jako lek, jest pobierany z grzebieni koguta lub wytwarzany przez bakterie w laboratorium.
Ludzie biorą kwas hialuronowy w różnych zaburzeniach stawów, w tym w chorobie zwyrodnieniowej stawów. Lek może być przyjmowany doustnie lub wstrzykiwany do chorego stawu przez personel medyczny.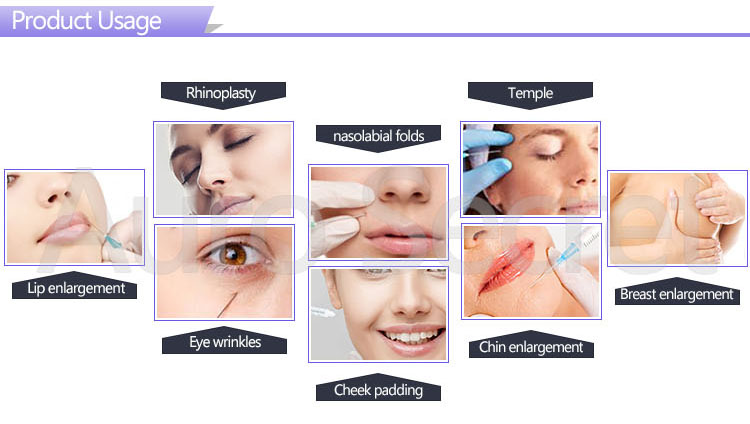 FDA zatwierdziła stosowanie kwasu hialuronowego podczas niektórych operacji okulistycznych, w tym usuwania zaćmy, przeszczepu rogówki i naprawy odłączonej siatkówki i innych urazów oka. Jest wstrzykiwany do oka podczas zabiegu, aby pomóc zastąpić naturalne płyny.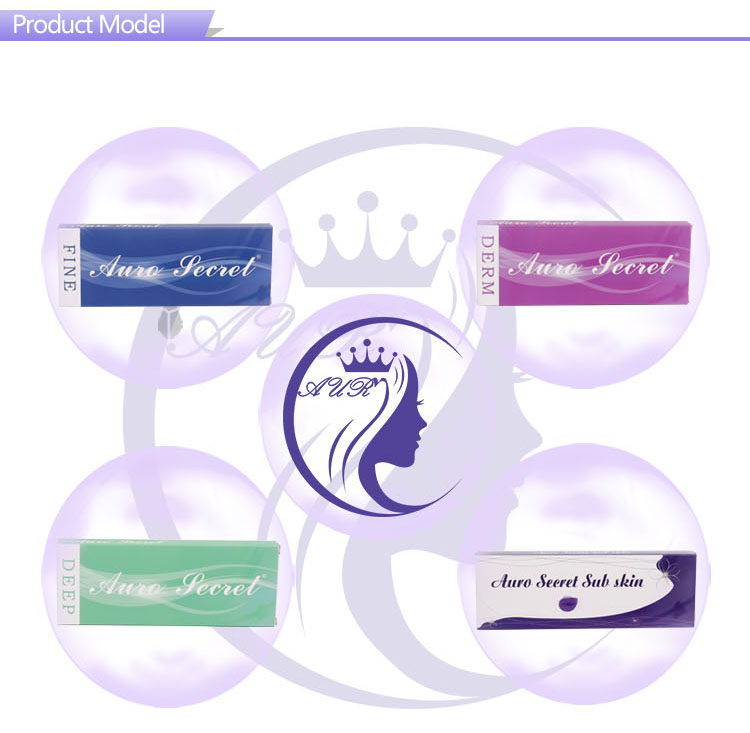 Auro Secret Fine

Needle size: 30G,Volume:1ml/2ml

Treatment:

With the smallest particles for the correction of very thin,superficial lines.

Injected in the upper part of the dermis.

For correction of thin superficial lines,such as worry lines,periorbital lines,perioral lines.




Auro Secret Derm

Needle size: 30G,Volume:1ml/2ml

Treatment:

Medium particle size for moderate wrinkles.

Injected in the middle part of the dermis.

For treatment of moderate wrinkles,such as glabella,oral commissures.

Lips fullness,pouting and vermilion border.




Auro Secret Deep

Needle size: 27G,Volume:1ml/2ml

Treatment:

Larger particles for deep folds.

Injected in the deep layer of the dermis and/or the surface layer of the subcutis.

For correcting deep folds,creating fuller lips and shaping facial contours,such as cheeks and chin.




Auro Secret Subskin

Needle size: 23G,Volume:10ml

Treatment:

Largest particles for breast and buttock.Injection for the breast and buttock augmentation.

Injected in the deep dermis or subcutaneous tissue shallow.

For the local depression,soft tissue filler,also can be used in rhinoplasty.




HA concentration:20mg/ml

Approximate number of gel particles ml: 200,000

Particle size(mm): 0.10-0.15

HA origin: Non animal

Storage: room temperature

Duration: 6-18 months




Kwas hialuronowy jest również stosowany jako wypełniacz warg w chirurgii plastycznej .

Niektórzy ludzie stosują kwas hialuronowy do skóry w celu gojenia ran, oparzeń, owrzodzeń skóry i jako środek nawilżający.

Istnieje również duże zainteresowanie zastosowaniem kwasu hialuronowego, aby zapobiec efektom starzenia. W rzeczywistości kwas hialuronowy został promowany jako "źródło młodości". Jednak nie ma dowodów na poparcie twierdzenia, że ​​przyjmowanie doustnie lub nakładanie go na skórę może zapobiegać zmianom związanym ze starzeniem.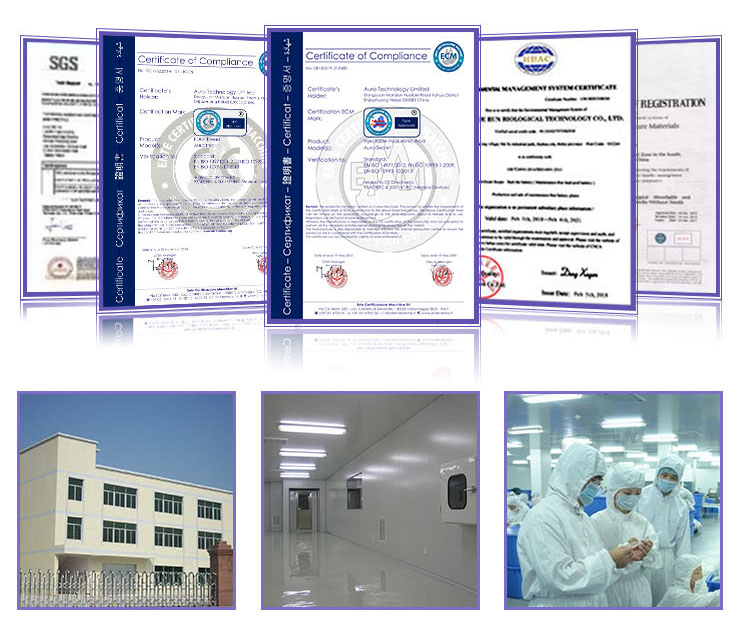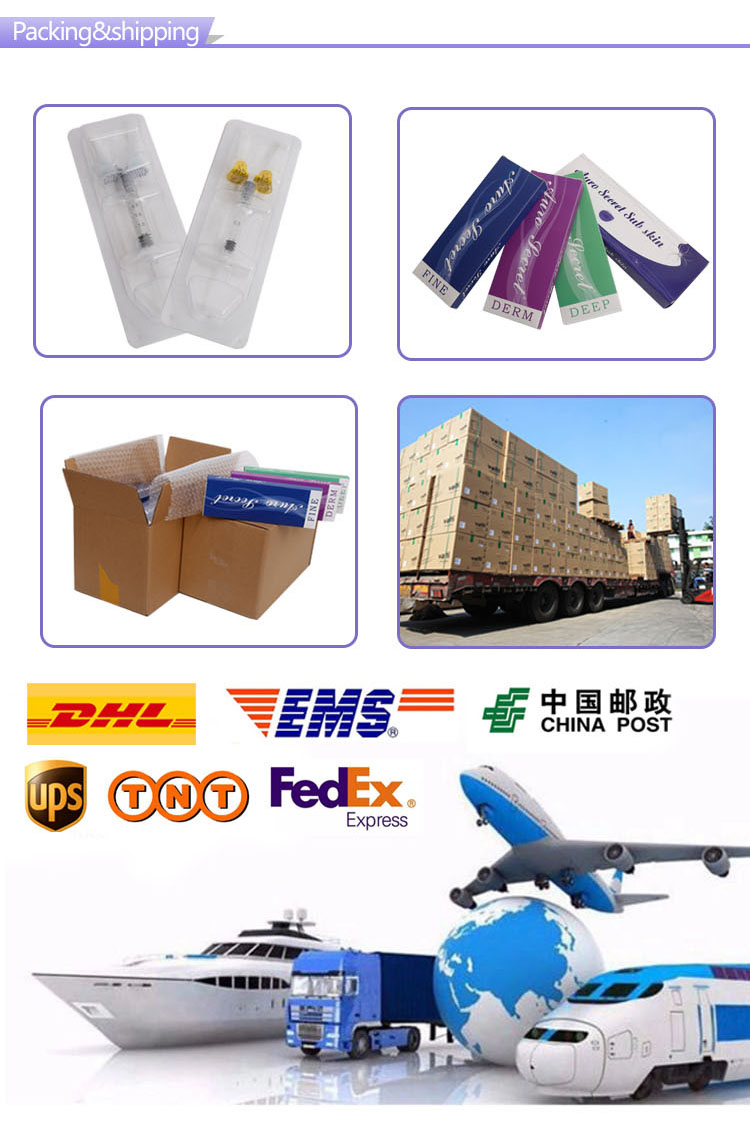 Jak to działa?
Kwas hialuronowy działa jako poduszka i środek poślizgowy w stawach i innych tkankach. Ponadto może wpływać na sposób, w jaki organizm reaguje na obrażenia.
Wraz z wiekiem nasza skóra traci zdolność zachowania wilgoci, powodując widoczną utratę jędrności, giętkości i pulchności. Kwas hialuronowy łączy się ze zdolnością do uzupełniania wilgoci, która jest kluczowa dla posiadania młodszej, gładkiej skóry.
Jednocześnie rewitalizuje zewnętrzne warstwy skóry, dzięki czemu wyglądają i stają się bardziej miękkie, gładsze i rozświetlone, aby natychmiast poprawić wygląd cienkich linii i zmarszczek.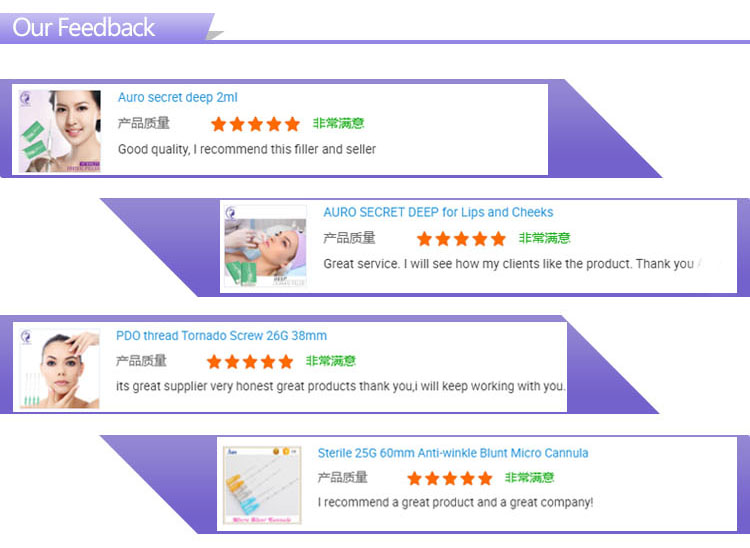 Kategorie o produkcie : Dermal Filler